We're celebrating the launch of Elizabeth Eulberg's new book
Better Off Friends
here in Wisconsin. Follow with the blog tour as we lead up to the launch party on February 25th at Boswell Book Company in Milwaukee.
Feb 22
Rachel - As told by Rachel - Pictures of places mentioned in the book from Wisconsin and giveaway of a signed book
http://tigerlilyrachel.com
In December, when I attended the Novel Cuisine luncheon, hosted by Liza Weimer of WhoRuBlog, I was the lucky recipient of an ARC of this excellent novel. This book deals with the age-old question: can a boy and a girl be just really good friends?
Goodreads Summary: For Macallan and Levi, it was friends at first sight. Everyone says guys and girls can't be just friends, but these two are. They hang out after school, share tons of inside jokes, their families are super close, and Levi even starts dating one of Macallan's friends. They are platonic and happy that way.
Eventually they realize they're best friends — which wouldn't be so bad if they didn't keep getting in each other's way. Guys won't ask Macallan out because they think she's with Levi, and Levi spends too much time joking around with Macallan, and maybe not enough time with his date. They can't help but wonder . . . are they more than friends or are they better off without making it even more complicated?
From romantic comedy superstar Elizabeth Eulberg comes a fresh, fun examination of a question for the ages: Can guys and girls ever really be just friends? Or are they always one fight away from not speaking again — and one kiss away from true love?
One of the things I loved about this book was the setting in Wisconsin. Since Levi moves here from California, the things that are unique about Wisconsin definitely stand out.
This book does a great job of highlighting our Wisconsin pride. The best place highlighted in the book is Culver's. Now, depending on where you live you may or may not have heard of this amazing chain of restaurants. I happened to work in my local Culver's while in high school, so the references to the chain brought me back to that time.
At Culver's you can get their famous ButterBurgers or a frozen custard. I thought it would be fun to share a little about the history of this restaurant in my blog post.
First of all, you may be asking, what is a ButterBurger and what is Frozen Custard? At Culver's, all burgers are 100% fresh and made to order. They are served on a toasted and buttered bun, hence the name ButterBurger. If you are ever at a Culver's restaurant, I would recommend the Deluxe: a double cheeseburger with lettuce, tomato, onion, pickle, and mayonnaise. As for frozen custard, it is ice cream's smoother and richer cousin. Frozen custard is made with eggs, which add a smoothness to the texture. At the restaurant, vanilla and chocolate are always available along with a flavor of the day. Culver's strives to make their custard stand out. On their website, they explain, "What is Culver's Fresh Frozen Custard? Think of it as the most premium ice cream you've ever tasted. Wonderfully luscious and rich, it contains less air so it's creamier and more decadent than ordinary ice cream; and because it's served at a temperature that won't freeze your taste buds, you actually experience the flavor longer." Who wouldn't want to try that???
Here we see the owner of Culver's, Craig Culver, working with a custard machine. Throughout the day the custard will be churned through the machine and kept in a bin below.





The story of Culver's is actually a great story. In 1984, Craig and Lea Culver, along with Craig's parents, opened the first Culver's in Sauk City, Wisconsin. This is a small town family that prided themselves on providing quality food that is locally sourced along with what they call "hometown hospitality." In 1990, the first successful franchise opened in Baraboo, Wisconsin. Then in 1995, the first franchise outside of Wisconsin opened. Now, there are more than 450 restaurants in 19 states. I love that this franchise has had such success. What a great Wisconsin story!




Over the years, the menu at Culver's has expanded to include Wisconsin favorites. In 1997, they added cheese curds to the menu. According to the Culver's website, "Cheese curds are unaged bits of cheddar, breaded and deep-fried. They're supplied by a family-owned Wisconsin dairy." If you have not experienced the deep-fried cheese curd, you are definitely not from Wisconsin. Next time you are in the dairy state, you need to try this treat!
Craig Culver in front of the expansive menu in a Culver's restaurant.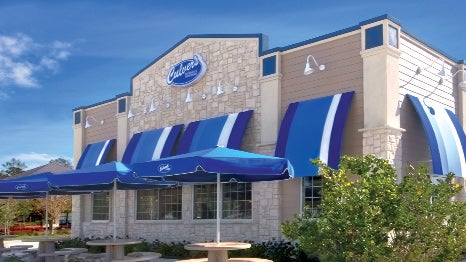 In
Better Off Friends
, Macallan and Levi head to Culver's on multiple occasions for celebrations and for comfort. They share cheese curds and eat turtle custard (Which is Macallan's favorite flavor of the day). So the perfect thing to do would be to buy your copy of this book, find the Culver's nearest to you, and go eat frozen custard while devouring this great romantic comedy!
Enter to Win a SIGNED copy of
Better Off Friends
below.
a Rafflecopter giveaway